Stephen M Slifko Jr. & Sylvia Slifko

Steve's Cell (330) 472-2216

Bison meat is low in cholesterol, fat, and calories, but high in protein, making it the only sensible choice for the health-conscious individual.

Bison meat is considered the alternative to all other meats.

All buffalo on Red Run Farm are raised without hormones or chemicals.

Buffalo meat is available for purchase....call for pricing.

Loin Strip Steak, 10 oz

Round Sirloin Top Steak, 8 oz

Short Ribs

Cubed Steak

Ground Bison

Bison Wieners

Bison Bratwurst

Loin Filet Mignon, 8 oz

Loin Top Sirloin Steak, 8 oz

Ribeye Steak, 10 oz

Stew Meat

Boneless Chuck Roast, 3 lb

Ground Bison Patties

Country Style Sausage

Italian Sausage

Call us at

(330) 855-1394 or

Steve's Cell (330) 472-2216

or choose to visit www.redrunbison.com for more details on High Quality Meat Selections available direct from the Ranch to you.

Red Run Bison & Horse Farm

Was established in 1998 as part of Steve's retirement from the construction industry. The farm is named after the creek that runs through the 250-acre property located east of Marshallville, Ohio in Chippewa Township. The area is known for its lush farmland and large dairy herds, and every season shows the beauty of God's creation.

Steve wanted to raise buffalo because of their low maintenance and delicious, healthy meat. In time, this decision became a passion and is now a thriving business.

We also liked the idea of having horses around and decided to raise a gentle breed known as the Kentucky Mountain Pleasure Horse.

We'd love to hear from you if you would like more information.

Call us at(330) 855-1394 or

Steve's Cell (330) 472-2216.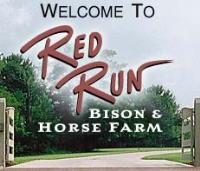 Where we raise and harvest all the hay for the 150 head of buffalo on Red Run Farm. There is still plenty of room on the 250 acres for the herd to roam and graze. In the spring of 2007, the heifers gave birth to approximately 80 calves.
In addition to grazing and farmland, the farm consists of a hay barn, equipment barn and office, 2 horse shelters, an elaborate buffalo corral system and squeeze shoot, and a chicken coop with 6 layers. The large barn (right) also serves as a gathering place for family and friends where square dancing has become a part of the fun.
Thank you for your interest in Red Run Bison & Horse Farm!