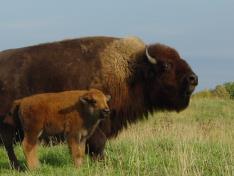 Long Ago Ranch
W3034 270th Ave.
Maiden Rock, WI
While many Buffalo (Bison) Ranchers raise their animals for direct Meat Sales, we have decided to raise our animals for breeding purposes; therefore, selling live animals to other Ranchers (Farmers). Although we do not sell buffalo meat directly to others at this time, we hope to provide you a great source to find Buffalo Ranchers (Farmers) who do with www.eatbisonmeat.com. We hope you enjoy this website and would love to hear your feedback as we grow. Thank you - Kris and Tom.
Our goal is to make a living, out of enjoying life-
Our goals include raising buffalo known within the industry as great breeding animals, therefore creating quality animals for meat producers. With everything we do, our goal is to make a living out of enjoying life and helping others to do the same.
We are committed to
Working together as a family

Offering Healthy, Quality products to others, while creating an income

Raising buffalo in a natural setting for the benefit of both the animals and ourselves

Finding new ways to promote and advance the Buffalo Industry

Helping others succeed so that we ourselves may succeed